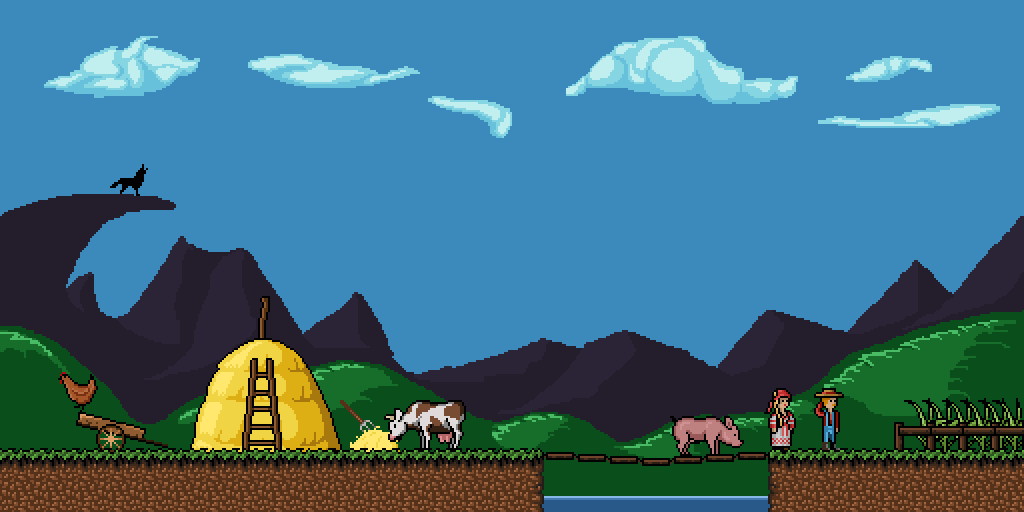 Farming Set (32x32)
A downloadable asset pack
Farming set at 32x32 resolution. Currently contains tools, fruits, vegetables, cereals, hay and animated animals. There are 6 tools, each has 4 materials and each one of those has 4 stages of condition. There are a total of 16 fruits each with unripe and ripe stages plus a lot of different slices for each, same thing with vegetables. Each cereal has 4 stages of growth cycle, I only included example of corn in preview. Every food item has a bag of seeds and individual seed icon. There are 12 Animals (6 domestic, 6 wild) each has Walk, Run and Idle animation. Color palette is included. Tiles and background image from the banner are also in the download files.
This pack will be getting updates, to which you will have free access once purchased. I'm planning on making this a full set of items for farming based games that will include stuff like: fruits, vegetables, seeds, crops, animals, other tools and smaller items.
Types of tools:
Axes
Shovels
Hoes
Pitchforks
Scythes
Sickles
Each has 4 materials:

Types of fruits:
Apple
Pear
Lemon
Orange
Plum
Kiwi
Pomegranate
Strawberry
Grape
Cherry
Peach
Blueberry
Watermelon
Melon
Pineapple
Banana
Types of vegetables:

Pepper
Tomato
Chili Pepper
Cucumber
Onion
Potato
Carrot
Broccoli
White Onion
Red Potato
Eggplant
Beetroot
Pumpkin
Cabbage
Cauliflower
Squash
Types of cereals:
Corn
Wheat
Barley
Rice
Sorghum
Characters:
Adult Male
Adult Female
Young Male
Young Female
Domestic Animals:
Horse
Cow
Pig
Sheep
Chicken
Cat
Wild Animals:
Deer
Bear
Wolf
Fox
Boar
Rabbit
animations:
Available for use in commercial projects, giving credit would be much appreciated.
Purchase
In order to download this asset pack you must purchase it at or above the minimum price of $4 USD. You will get access to the following files:
Crates And Sacks.rar
6 kB
Tiles And Background.rar
6 kB
Comments
Log in with itch.io to leave a comment.
This is one of the things I've made when I was just starting pixel art. Glad it find it's use. The game looks interesting, I must give it a try.
hey i just saw you work, do you want to make a game with me?
Looks awesome, nice work :)